Collaborative Data Analysis using MAXQDA TeamCloud
Organization, Division of Labor, and Implementation in Seven Phases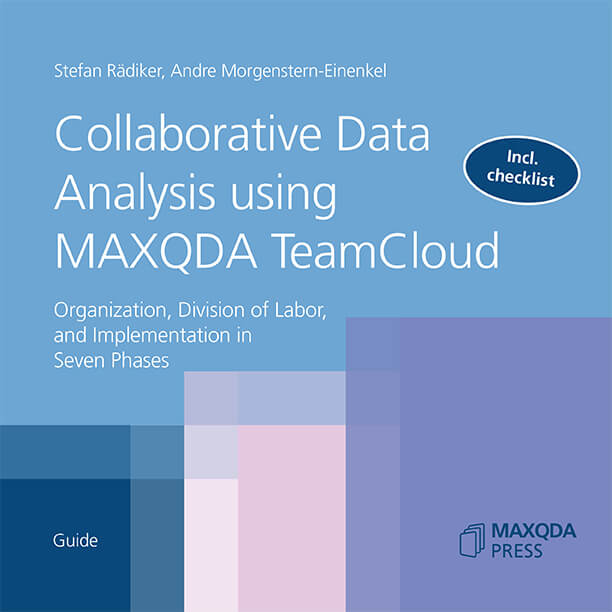 Authors: Stefan Rädiker, Andre Morgenstern-Einenkel
Released: March 18, 2022
Language: English
ISBN: 978-3-948768140
DOI: 10.36192/978-3-948768140
Download as PDF (free)
This guide combines the organizational, technical and—as far as necessary for understanding—methodological aspects of teamwork in qualitative research projects into a practical manual. In this guide, teamwork is understood not only as the joint analysis of data but as analysis based on the division of labor.

First, the features of MAXQDA TeamCloud are introduced. Then, a process model for teamwork in seven phases is proposed and its implementation with MAXQDA TeamCloud is explained:

1. Prepare project file and set up working rules
2. Develop initial code system and define coding rules
3. Test, adapt, and extend code system and coding rules
4. Code data using division of labor
5. Transfer coding to main project
6. Check coding quality
7. Analyze coded data

This guide offers all members of project groups in which qualitative data are jointly analyzed with MAXQDA an orientation and a basic structure for planning and implementing their teamwork.
Stefan Rädiker
Dr. Stefan Rädiker is a consultant and trainer for research methods and evaluation. He holds a doctorate in educational sciences and his research focuses on computer-assisted analysis of qualitative and mixed methods data (www.methoden-expertise.de).
Andre Morgenstern-Einenkel
Andre Morgenstern-Einenkel holds a diploma in social sciences and is an independent consultant and lecturer for qualitative research methods as well as a contract researcher. He trains users to employ MAXQDA in official VERBI workshops and webinars, at the invitation of institutes and projects, in individual consultations, and in his own open online teaching events (www.methoden-coaching.de).