Analyzing Focus Groups with MAXQDA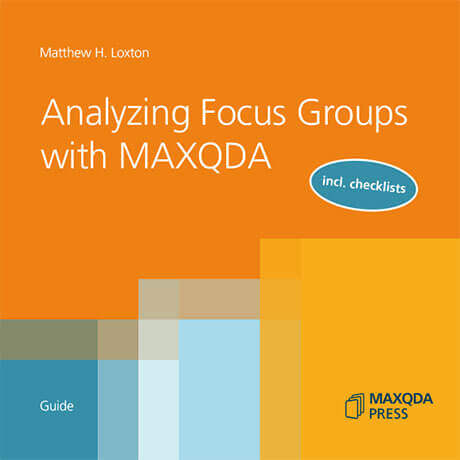 Author: Matthew H. Loxton
Released: March 2, 2021
Language: English
ISBN: 978-3-948768065
DOI: 10.36192/978-3-948768065
Download as PDF (free)
This guide provides an overview for using MAXQDA with focus groups, and how it can support the collection, analysis, and reporting of focus group data:

• Preparing and importing focus group data in MAXQDA
• Creating and importing speaker variables
• Exploring the focus group data
• Focus group coding
• What comes after coding?
• Tips and tricks

Real-world examples from healthcare illustrate the explanations. A checklist for analysis of focus groups with MAXQDA as well as a checklist for conducting focus groups support the realization of your projects.
Matthew Loxton
Matthew Loxton is a Principal Analyst at Whitney, Bradley, and Brown Inc. focused on healthcare improvement and strategic foresight, serves on the board of directors of the Blue Faery Liver Cancer Association, and holds a master's degree in Knowledge Management from the University of Canberra.