The Practice of Qualitative Data Analysis
Research Examples Using MAXQDA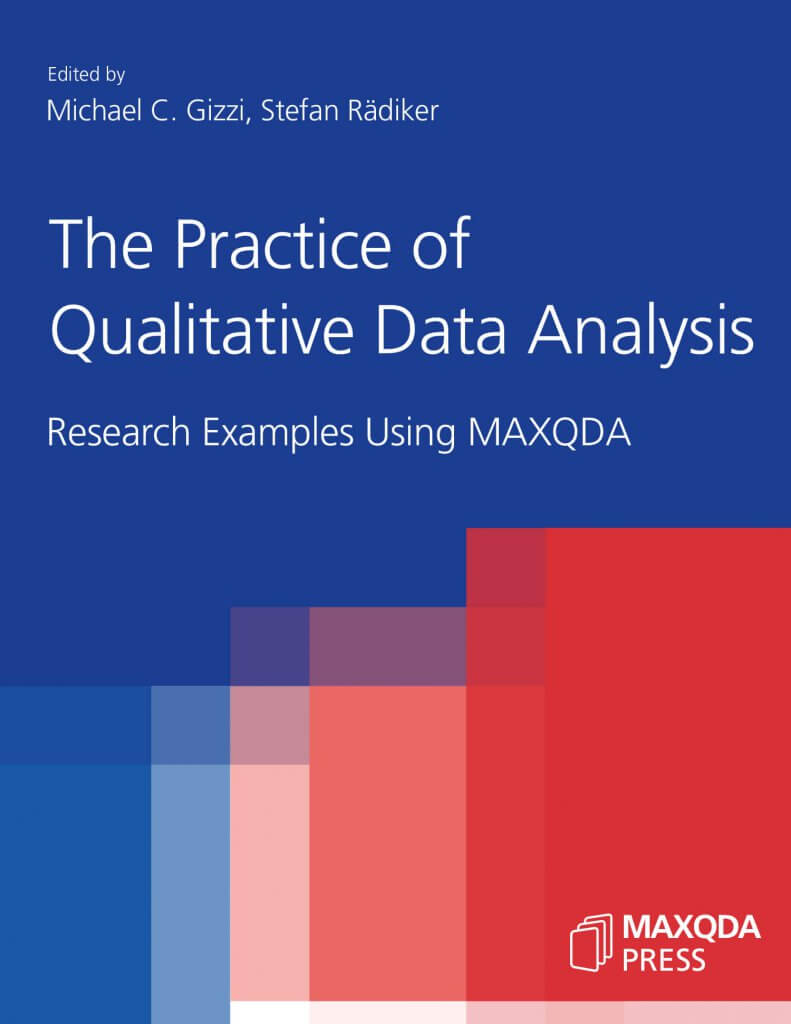 Introduction (9–15)

Michael C. Gizzi, Stefan Rädiker

1.
Using MAXQDA in Ethnographic Research:
An Example with Coding, Analyzing, and Writing (17–33)

Danielle N. Jacques

2.
Using MAXQDA in Qualitative Content Analysis:
An Example Comparing Single-Person and Focus Group Interviews (35–53)

Natalie Santos, Vera Monteiro, Lourdes Mata

3.
Using MAXQDA's Visual Tools:
An Example with Historical Legal Documents (55–70)

Andreas W. Müller

4.
Using MAXQDA from Literature Review to Analyzing Coded Data:
Following a Systematic Process in Student Research (71–88)

Michael C. Gizzi, Alena Harm

5.
Using MAXQDA for Analyzing Focus Groups:
An Example from Healthcare Research (89–106)

Matthew H. Loxton

6.
Using MAXQDA for Analyzing Documents:
An Example of Prioritization Research Design in Urban Development (107–120)

Temur Gugushvili, Gvantsa Salukvadze

7.
Using MAXQDA for Identifying Frames in Discourse Analysis:
Coding and Evaluating Presidential Speeches and Media Samples (121–133)

Betsy Leimbigler

8.
Using MAXQDA's Summary Features:
Developing Social Types in Migrant Integration Studies (135–147)

Aikokul Maksutova

9.
Using MAXQDA for Bibliographic Documentary Analysis:
Combining Automatic and Manual Procedures Within a Literature Review (149–167)

Antoni Casasempere-Satorres, Marisa Vercher-Ferrándiz

10.
Using MAXQDA in Teams and Work Groups:
An example from Institutional Evaluation and Organizational Data Analysis (169–184)

Christian Schmieder, Joel Drevlow, Josset Gauley
This book provides ten case studies with concise real-world examples illustrating how MAXQDA is used in practice. In each research example, the authors present their way of using MAXQDA, addressing a variety of practical questions, such as how the coding system was developed, how coded documents were analyzed, what tools were used, and how those tools informed the results. Embedded in the context of each research example, readers can follow analytical processes step-by-step and gain insights into efficient ways to use MAXQDA.
Readers can benefit from this book in several ways:

• Get inspirations and solutions for their own projects
• Avoid pitfalls by considering the lessons learned from each author presented at the end of each chapter
• Use the examples in teaching

Audience:

• All researchers who want to get to learn the potential of qualitative data analysis with MAXQDA
• All users of MAXQDA who want to expand their knowledge and skills, no matter if they are novices or experts

Michael C. Gizzi
Dr. Michael C. Gizzi is a professor of criminal justice at Illinois State University, USA. He holds a doctorate in political science, and his research focuses on constitutional criminal procedure and judicial process. He is a professional trainer and consultant for MAXQDA and uses it in research courses, workshops, and webinars.
Stefan Rädiker
Dr. Stefan Rädiker is a consultant and trainer for research methods and evaluation. He holds a doctorate in educational sciences and his research focuses on computer-assisted analysis of qualitative and mixed methods data (www.methoden-expertise.de).